Our dreams can change the world
71 years ago, Soichiro Honda realised one of his life's greatest ambitions. Just 3 years earlier, in 1946, he had founded a small company with 12 employees working in a shed and selling improvised motorised bicycles. By 1949, Honda was marketing its first motorcycle, designed and manufactured fully in-house. It was known as the D-Type - the Dream.
Timeline of our accomplishments
Disclaimer
We trust you enjoy our timelines. If we've missed something, or if you think we got something wrong, contribute to the timeline by contacting us at disclaimer@honda.co.za.
Testimonials
"We would like to express our extreme gratitude for the support that Honda Motor Southern Africa has extended to us over the last 16 years. The assistance with various vehicles over this period has allowed us to be in a position to assist at literally hundreds of vehicle crashes on South Africa's busiest road."
Philip Hull
on behalf of the Community Medical Services Team and South African Road Safety Foundation
"I have been fortunate to be associated with HONDA in South Africa for almost 30 years. HONDA is thorough – and they take safety of their customers and protecting the environment seriously. There is never a quick plan or solution, no... everything is planned step-by-step to ensure that safety & reliability is given top priority. The HONDA culture of supreme engineering, thoughtful planning, respect for its customers & the environment, whilst embracing its rich heritage in competitive motor sport can only be admired!"
Dawie Krynauw
M.D, MEKOR Group
When I turned 16 I got my first motorcycle, a black Honda MB-5 50cc… I went on to owning a Honda CBR600F3, then an awesome black Honda Blackbird CBR1100XX and lastly the tri-colour 2004 Honda Fireblade CBR1000RR. All of these bikes gave me endless reliability… I was given the opportunity to race cars when I was 37. I got a well prepared 1600cc 1999 Honda Civic Vtec 3 door hatch back that has brought me so much success… My 1600 (B16A) motor, never broke and revved continuously between 6500-8800 RPM for the 3 years I used it, then I went to the 1800 (B18C4) motor that has lasted 4 years with only minor maintenance at the same RPM. All stock standard original Honda parts. My passion has always has been with the Honda brand whether it be with a motorcycle or car I have always loved the feeling I have had being in control of such a unique brand that combines quality, reliability and drive-ability.
Brett Garland
Motorsport racer and defending champion of the Honda hatchback series in South Africa
I had the pleasure of working with Honda when I got to test drive the Honda HR-V, which was a unique combination of a SUV and Coupé. I loved the personal touch of delivering the car straight to my door, plus they talked me through all the features, ensuring I really understood what the car could offer. They also collected the car, which I reluctantly gave back!
Bailey Schneider
Radio and TV presenter and voice over artist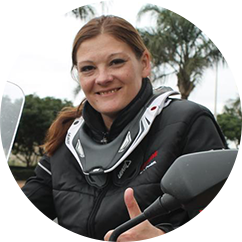 After losing both my legs in 2014, I was terrified at the thought of being stuck in a wheelchair for the rest of my life, especially because I am a mom of two young boys. After meeting Charl Beukes from the Amputee Club of South Africa 2014, I realised how many children lose limbs due to cancer. Being an amputee myself and having kids of my own, I realised how desperate the situation was for these children to be able to get up and walking again. We are extremely proud to have Honda as a strategic partner, who has sponsored us with a Africa Twin as well as a Jazz sport. We use our passion for motorcycles to raise awareness and funding and the car to assist with transporting patients. Honda shares our vision, making dreams come true and making people mobile again.
Gerda du Toit
Co-founder of the Riding for A Limb Organisation
The past 20 years in pictures
Time flies. Looking back at the past 20 years, we are proud of what we have achieved, but prouder still of the confidence placed in us by our partners, our team members and our customers. Our promise to you, and to ourselves, is keep doing our best to deserve it.
The last 20 years have been a wonderful journey, filled with unforgettable memories.
We're looking forward to the next 20 years, venturing together into the future. Wherever our dreams may take us.